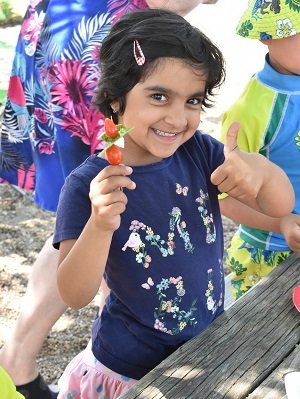 "Teachers are patient and let children grow."
-Oak Meadow parent
Summer Programs
Registration for the 2021 Oak Meadow Summer Program is now open!
Oak Meadow offers a Montessori-based summer program for all our students. Children enjoy weekly themes, educational activities, arts and crafts, water fun, music, games, friends and more! Summer at Oak Meadow is a wonderful extension of the school year, where the guiding principles of the Montessori curriculum are applied in a relaxed summer setting, under the supervision of a great staff.
Use the buttons below to see an overview of the entire summer, read descriptions of each program, and register for specific weeks. For any questions, please contact the Director of Auxiliary Programs, Antonella Fuchser at afuchser@oakmeadow.org.
BG – Beginners Program (toddlers & older)
CH – Children's House (3 years & older)
LE – Lower Elementary (grades 1-3)
UE – Upper Elementary (grades 4-6)
MS – Middle School (grades 7-8)