Our graduates have a love of learning, confidence and the skills to navigate a challenging world, so they are well-prepared for high school, college and beyond. Read on to learn about some of their experiences and achievements.
Alumni Night at Oak Meadow
Posted May 10, 2022
Our middle schoolers and alumni enjoyed a spring evening of fun, food and friends reconnecting. It's always wonderful to see our former students again, hear what they've been up to, and reminisce about their Oak Meadow days. Pictured (from left) are Torin (Class of '19), Arshia (Class of '20), Eleanor (Class of '20) and Rachel (Class of '19).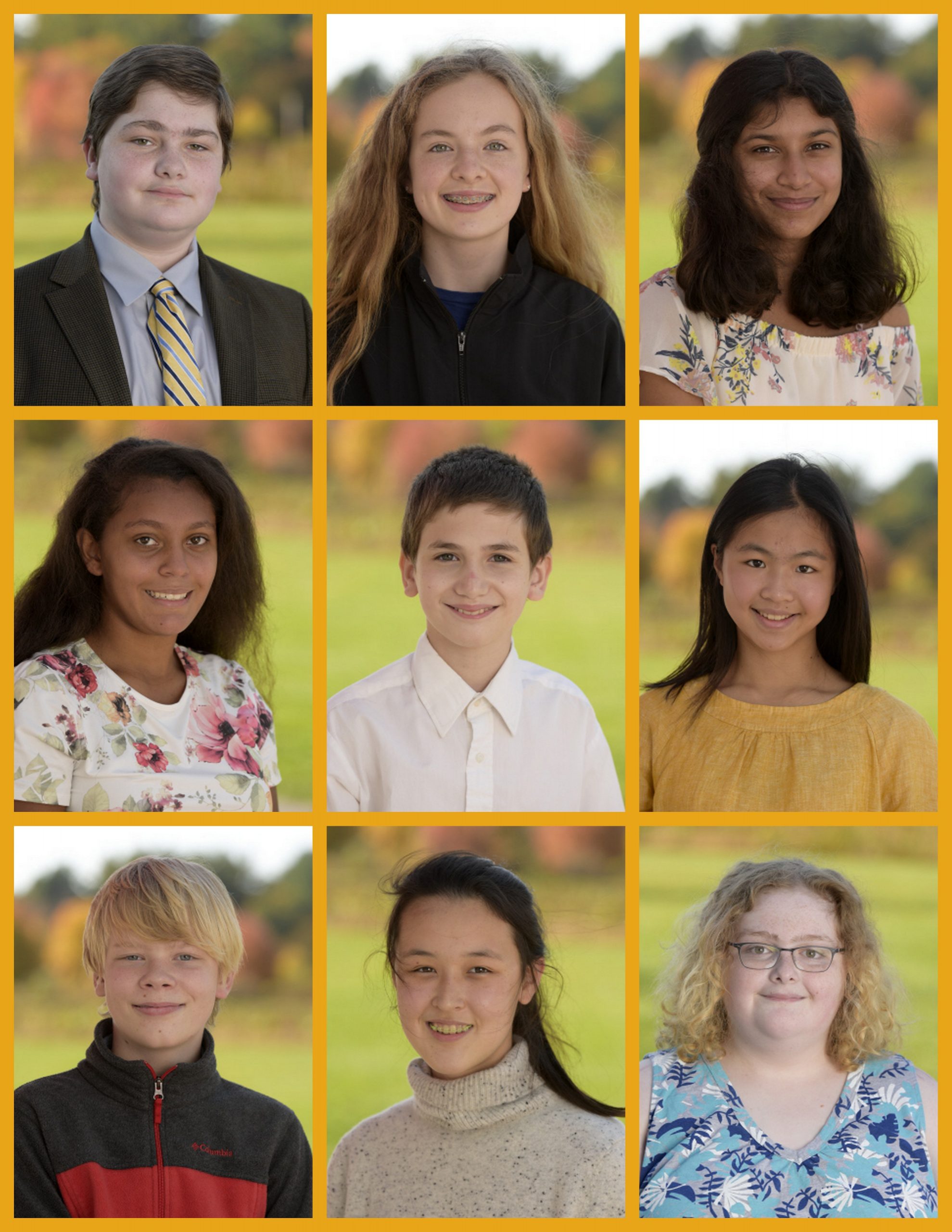 Oak Meadow Congratulates the Class of 2021
Posted June 23, 2021
In a year like no other, our 8th graders have impressed us all with their positive energy and the creativity to re-imagine  things that couldn't been done into things that were done. They redesigned their Halloween Fair into a week of activities that all students could enjoy. We watched videos of them playing instruments, presenting their Science Fair projects, reciting their poetry and playing multiple parts in a series of dramatic monologues. But best of all, we are able to hold the graduation ceremony in person and listen to these amazing young people as they bid farewell to Oak Meadow. Ash, Chen-An, Clare, Joseph, Max, Mei, Nadine, Prisha and Theo: we wish you all the best on your continuing journey!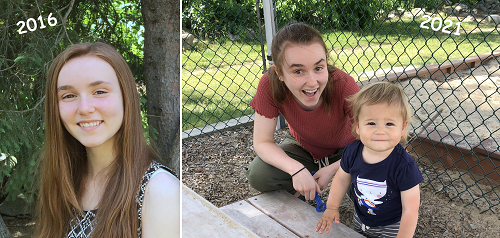 Oak Meadow Alum joins our Summer Program Staff
Posted June 14, 2021
It's wonderful to have our alumni return to Oak Meadow, not only for reunions with other graduates, but in other capacities. Our alumni have served as tour guides at our Open Houses and worked in our After School programs. Pictured is Lori Donohoe who graduated from Oak Meadow in 2016. Currently a student at Tufts University, Lori joined our Summer Program staff this year, working with our youngest group, the Beginners. Welcome back, Lori!
Oak Meadow Class of 2020 – Reunion!
Posted June 5, 2021
One year later, our class of 2020 finally got to be together and celebrate their graduation in person! After the pandemic hit last year, Oak Meadow went completely remote for the final 3 months of the 2019-20 school year. The graduation ceremony for our 8th graders was virtual – but we promised them a reunion at some point. On June 4th this year, we were finally able to hold that reunion on campus – it was wonderful to see everybody!
Oak Meadow Class of 2020
Posted June 23, 2020
Oak Meadow congratulates our class of 2020 – Sophia, Jack, Grace, Kevin, Ella, Tallulah, Arshia, Mia, Ellie, Elyse and Renee. We couldn't be more proud of this amazing group of students. They have demonstrated their resilience and ability to adapt and thrive through some very tough challenges this year. We wish them all the best as they continue their journeys on to high school, and look forward to Alumni Night when they can, finally, be together once again.
Update on the Class of 2016
Posted June 4, 2020
Oak Meadow congratulates our alumni from the class of 2016, who are now graduating high school and moving on to college. Pictured is Maanasi Chintamani, who graduated from Middlesex School, where, all 4 years, she was a high honors student, varsity coxswain on girls crew and member of acapella groups. Maanasi will be attending Georgetown University in the fall.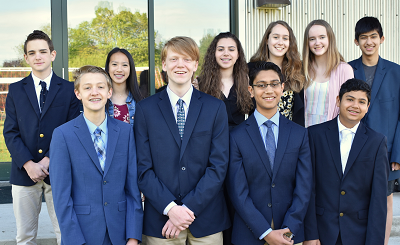 Oak Meadow Class of 2019
Posted June 27, 2019
Oak Meadow congratulates our class of 2019 – Aidan, Torin, Rachel, Keegan, Rebecca, Aarav, Ava, Maggie, Omayr and Ravi – and wishes them all the best as they continue their journeys on to high school. Don't forget to come back and visit us!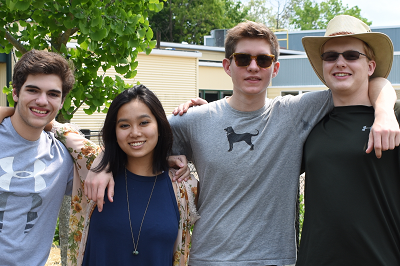 Oak Meadow Alumni Stop by on Field Day!
Posted June 3, 2019
We love it when our alumni stop by for a visit! Several of them visited during Field Day and even took part in the water balloon toss. It was great to see Michael Tsillas ('17), Sophia Ronchetti ('17), Hyatt Mayor ('17) and Stephen Holmes ('16).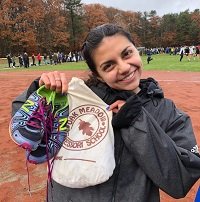 Oak Meadow Alum Achieves Academic and Athletic Success
Posted December 6, 2018
OMS alum Sonia Tremblay ('12) has been named to the 2018 NESCAC Fall All-Academic Team for the third time. To be honored, an individual must be in good standing in their sport with a cumulative grade point average of at least 3.50. Sonia is a junior at Colby College, where she runs cross country and track and is majoring in neurobiology and psychology. And she still keeps her running shoes in her Oak Meadow bag!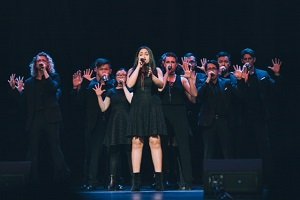 Oak Meadow Alumna Performs A Cappella in College
Posted August 13, 2018
OMS alum Summer Aslam ('13) sings with the a cappella group Voices in Your Head at the University of Chicago. They recently won 3rd place in the 2018 International Championship of Collegiate A Cappella at the Beacon Theatre in NYC this past spring, with Summer performing the opening solo of their set. She credits Steve Pixley, Oak Meadow's Music Teacher, for her love of singing – Summer never knew she could sing before taking Mr. Pixley's cabaret class back in 4th grade at Oak Meadow. Congratulations to Summer and her fellow singers on their success!
Oak Meadow School Class of 2018
Posted August 7, 2018
Oak Meadow congratulates our class of 2018 – Anika, Henry, Victoria, Ben, Keith, Arthur, Brendan, Alex, Robin and Rianna – and wishes them all the best as they transition on to high school. We will miss you all!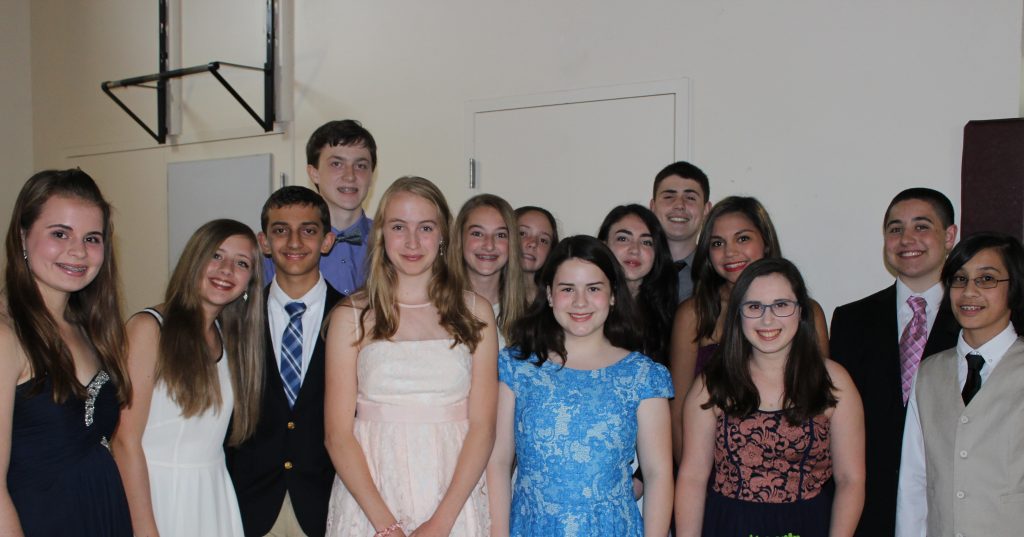 Update on the Class of 2014
Posted May 24, 2018
Oak Meadow congratulates our alumni from the class of 2014, who are now graduating high school and moving on to college. Click here to read about where some of them are going!
Alumni Night at Oak Meadow
Posted March 22, 2018
Our Middle Schoolers recently hosted their annual Alumni Night – always a great opportunity for our graduates to reconnect with each other and Oak Meadow teachers and students. Pictured is OMS alum Amelia Kovacs ('16), next to a photograph of her and her 4th grade Oak Meadow Science Fair project.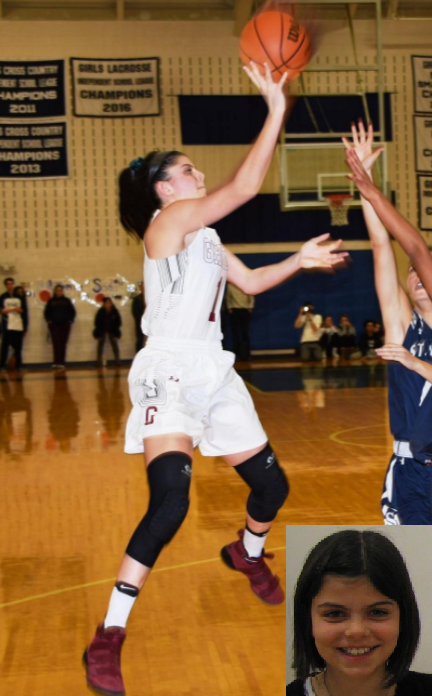 Former Oak Meadow Student Creates Basketball Memories at Groton School
Posted March 12, 2018
Alyna Baharozian, former Oak Meadow student, has been shining on the basketball courts for Groton School. The 5-foot-9 senior guard has scored more than 1,000 points for Groton, was a four-time league all-star and a three-time first team All-ISL selection. For the second time, the video of her winning shot at the buzzer of the final game of the season made ESPN's Top Ten Plays, propelling her into the national spotlight. (Two years ago, she was also featured on ESPN with her game-winning basket.) Next season, Alyna is expected to play basketball for Middlebury College. Click here to read more. Well done, Alyna!
Oak Meadow Alum Achieves Equestrian Success
Posted July 5, 2017, Updated January 16, 2018
OMS alum Lara Erdogus-Brady ('16) and her horse Stenkaergards Mr. Swing King, or "Duke", have qualified twice in the past two years for the Region 8 Junior Dressage Team and represented the region at the North American Junior Young Rider Championships. This past summer, Lara won USDF Region 8 Jr. Reserve Champion at both 4th Level and Prix St. George. Lara is one of 15 Junior Young Riders admitted to Lendon Gray's 2018 three month winter intensive training program held in Florida. Congratulations, Lara!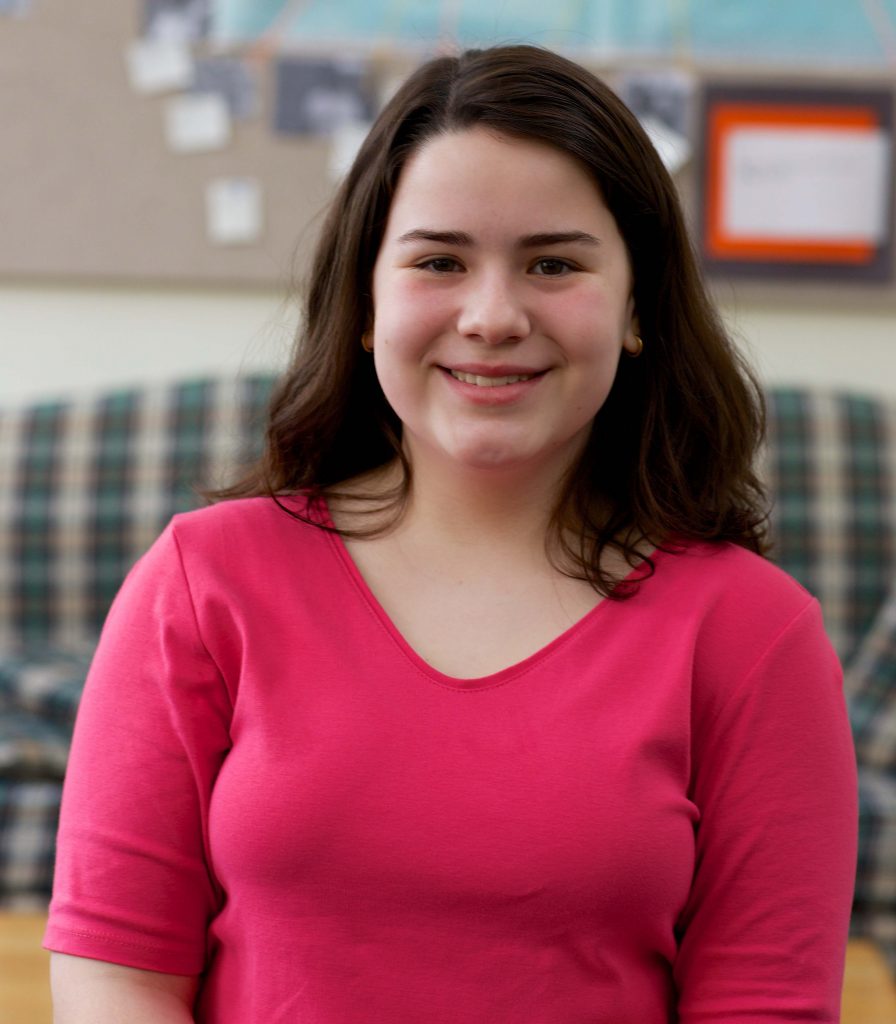 Oak Meadow School Alum Awarded Rensselaer Medal
Posted June 20, 2017
OMS alum Delaney McKenna ('14), a junior at Nashoba Regional High School, was awarded the Rensselaer Medal for outstanding academic achievement in the study of mathematics and science. High schools can nominate one student for consideration for the medal to Rensselaer Polytechnic Institute. The recipient of the medal is also awarded a 4-year scholarship to study at RPI. Delaney plans to study biochemical engineering. Congratulations Delaney!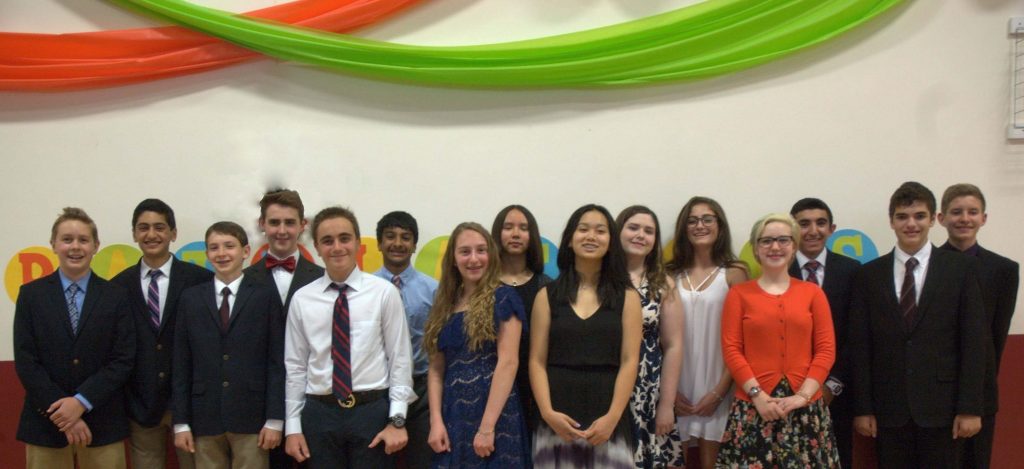 Oak Meadow School Class of 2017
Posted June 14, 2017
Oak Meadow is proud to announce its class of 2017. We congratulate the 8th grade graduates and wish them all the best at their respective high schools in the fall: Bishop Guertin High School, Chapel Hill – Chauncey Hall School, Concord Academy, Laurel Springs / Club Med Junior Golf Academy, Lawrence Academy, Littleton High School, Middlesex School, Nashoba Regional High School, Walnut Hill School, Westford Academy and Worcester Academy.