Building community in the time of COVID-19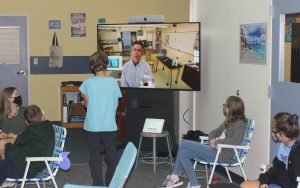 A new student joined one of our classes this year. Being the new student is never easy, even in the best of times. It's a lot harder when you're required to wear a mask, remain physically distant, and only get to know some of the students over a computer screen. This new student, however, ended up having an experience that surprised even the teacher. After a short while at school, this student began developing a friendship with one of the students who was learning at-home, a student who had been part of the school community for many  years. The two students soon discovered shared interests, and found themselves getting into all kinds of interesting conversations. The teacher was observing all of this with great interest. Now, after just a few weeks, these two students have become close friends. The new student at school keeps a Chromebook close by, to easily connect with the friend at-home, either through a school lesson or during more informal social occasions.
This story beautifully illustrates how it's possible for our students to have a strong sense of community and personal connection with one another even when it occurs over physical boundaries between school and home. Behind the masks, behind the computer screens, our students are still being provided with opportunities to be themselves, to be engaged, to build on their own interests, and to connect with others in ways that are emotionally enriching and satisfying.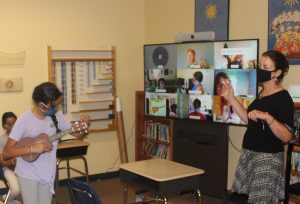 We've been fortunate at Oak Meadow to have the opportunity to work in partnership with Cisco Systems, Samsung, and Salamander as part of a case study. This has given our teachers access to integrated technology systems that include large interactive screens and white boards with video and audio capabilities. The teachers are using this equipment to bring students on-campus together with students at-home, fostering a richer learning experience while also building community. This has helped enormously in our goal of helping students feel like they are still part of one school community.
Our teachers have taken on a herculean task this school year. What teachers are working to accomplish with blended learning is truly unprecedented. It requires hard work, flexibility, training, resilience, and patience. It also takes a huge commitment to trial and error, figuring out what works best for students by trying something and making changes and modifications based on what works best.
Like everything with COVID-19, the best outcome includes figuring this out along the way. With Oak Meadow, this means a determination to make sure that we are doing everything possible to create the best learning experiences for our students each day. That's what our teachers are passionate about doing, and it's my reason for hope as we move forward in this uncharted territory, making the appropriate adjustments as we go.