What our teachers believe about learning hasn't changed because of COVID
I was asked recently, "why do parents send their children to Oak Meadow?" What I hear from parents consistently is that the teachers at Oak Meadow are truly talented in bringing out each child's unique strengths and talents as learners. Our teachers really know each child. They have a profound talent for awakening all of the learning potential and possibilities inherent in each learner.
What our teachers believe about learning hasn't changed because of COVID. Teachers certainly have had to adjust to physical changes in the classroom, have adapted to students learning both on-campus and at-home, and have a far greater dependence on technology, yet, the core of what our teachers do every day has not changed at all. Even during COVID, our teachers continue to prioritize the individual academic and social/emotional development of each student.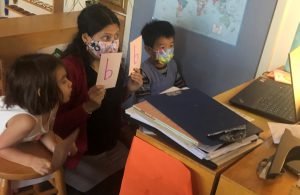 In one of our early childhood classrooms (age 3 through Kindergarten), a student working from home is connected with the rest of his classmates through a computer screen. He works with a small group of students who are in the classroom, connected through technology. The teacher has brought this group together, and has selected a language unit that is appropriately challenging for all of the students who are part of this group. Despite the fact that one of the students is working from home, the teacher has designed this unit so that it is appropriately challenging for the students involved, with students working together, as if they were all in the classroom, so they can all contribute to the successful completion of the work assignment.
In a lower elementary classroom (grades 1-3), some of the students find the technology intimidating because being projected onto a big screen is louder and larger than life. This created a reluctance in some students to participate. In response to this, the teacher decided to put the students into smaller breakout groups. That has made a huge difference. Now when the teacher starts breakout groups, these students are eager to participate. Although the smaller group is still part of the class, they are able to get work done without feeling they are displayed in front of the whole class. The students are more willing to talk, take risks, ask questions, and are just happy to work together in a way that feels almost normal. Students on campus can join the small groups through their tablets and work together with friends at home.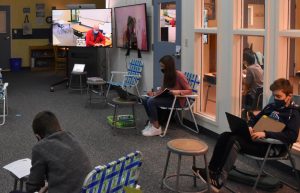 In upper elementary classrooms (grades 4-6), teachers continue to find that the best way to make a difference with students is to foster personalized connections/relationships. This is particularly true for students who are learning from home and cannot connect with teachers in the typical ways. By intentionally scheduling touch points throughout the week with their teachers, students get what they need to make effective progress. Here are some of the ways this happens in upper elementary:
1-to-1 check-in meetings with students at least weekly

Daily email check-ins

Weekly small group meetings with at-home and on-campus learners

Targeted lessons

/short videos of how to navigate the technology (using doc hub video, uploading assignments on google classroom, etc.). Students need support and training on technology tools when they are ready for it and when they need it (videos are helpful).

Consistent connection/communication with parents, so struggling students don't fall through the cracks.  Parents are our eyes and ears for at-home learners in particular.

Electronic planners updated daily, available to parents/students and sent regularly and directly (as needed) to students with organizational issues.

One teacher on the team is a designated at-home coordinator, a conduit during the busy school day when classroom teachers are unavailable to help.  This allows for timely assistance which minimizes frustration/shut down for struggling learners in particular.

Peer mentoring (super-organizers are paired with the less organized students and meet regularly.)

Morning and afternoon check-ins; group check-ins begin and end the day; focus is on time/materials management, organization, updates and student feedback. Conversations about the world outside of Oak Meadow happen often and are critical to students working through concerns and stress related to COVID, the national election, and other issues. Without this, students are carrying a burden that precludes progress in other areas.  Building community helps in sharing/carrying the burden.

Mindfulness strategies (meditation, gratitude, scheduling downtime) are taught and scheduled into the day.
Students graduate from this school with a strong mastery of their academic subjects (including math, science, Spanish, and the humanities), and at the same time they develop the skills of being critical thinkers, problem solvers, and effective collaborators and team members. At Oak Meadow, a love of learning is a way of life.