Parents who engage in their child's education
This month has been rich with opportunities for parents to make connections in the Oak Meadow community. In addition to meeting with teachers during the Curriculum Overview events, parents were on campus for Trunk or Treat last Sunday, attended the Digital Health and Wellness Parent Ed event on Tuesday night, and this morning assembled on campus for the annual student Halloween Parade. The children were so excited to show off their wonderful costumes for such a big audience of parents, teachers, and students.
I would like to specially thank our Parents' Association (OMPA) officers for everything they are doing to create opportunities for parents to connect socially with each other, and to be more involved in working with the school to plan events that strengthen the school-family partnership.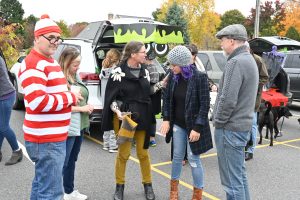 Parent engagement, the next step beyond involvement, is essential in a Montessori education. Here are some of the reasons cited by author Dorothy Harman in the book Intentional Connections:
The most accurate predictor of student achievement in school is the extent to which the family creates a home environment that encourages learning, communicates high yet reasonable expectations for the child's achievement, and becomes involved in the child's education at school.

Children spend 70% of their waking time outside of school.

Parents and teachers working together with the best interests of the child in mind, can have an invaluable and positive impact on the life of a child.

Engagement goes deeper than involvement. It is a mutually enhancing relationship, with all parties invested in the outcome.

When the teacher engages with the parent, it sends a message to children that their education is connected in a meaningful way to life outside of school.

Common expectations delivered with common language by parents and teachers can demonstrate this home-school connection.
Next Friday, I will launch a series of Parent Program-level Coffees. This is an opportunity for you to meet with other parents in your child's program-level, share ideas about what is most important to you in your child's school experience, and learn about the school's exciting plans for this year.
You can attend the Program-level coffee in person at school, or from the comfort of your home or office via Webex. I am very excited to get to know you better and hear more about what's important to you. Please save the date(s) below now on your calendar so you can be sure to attend.
| | | |
| --- | --- | --- |
| Date | Time | Program Level |
| November 4 | 8:15-9:00 | Middle School |
| November 18 | 8:30-9:15 | Lower and Upper Elementary |
| December 2 | 8:30-9:15 | Children's House |
| December 9 | 8:30-9:15 | Beginners |