Parents discover the differentiators of an Oak Meadow education
Last night, a large group of Lower Elementary parents assembled in the classrooms as part of our Curriculum Overview events. In-person events are returning to the calendar and it's wonderful to welcome parents back into the classrooms for the first time since COVID. Last night, there was joy and new discovery on the faces of parents as they had the chance to experience first-hand what happens in the lives of their children every day.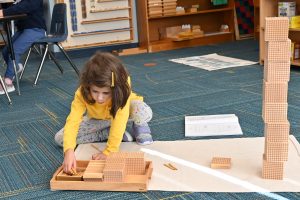 Parents could see and touch the beautiful materials which are so effective and engaging for the students. They learned about the depth and breadth of the curriculum, and better understood how teachers incorporate current research and best practices into our Montessori approach. One of the parents asked, "what makes a difference between Montessori and more traditional school models?"
That is such an important question. Our two Lower Elementary Teachers, Natalie Ferreira and Sarah Falcone, skillfully explained and illustrated many of the key differentiators.
Learning is hands-on, experiential, and engaging. Unlike traditional schools that use materials that fail to inspire and engage the student, the Montessori classroom uses a curriculum and materials that allow students to develop a deeper understanding of abstract ideas through the senses and through experience. This provides students with a deeper conceptual knowledge of the topic (in all academic areas) and it translates into a better understanding of the abstract ideas that are introduced fully in Upper Elementary and Middle School.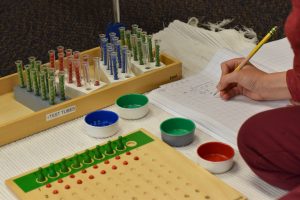 Multi-age classrooms allow students to learn at their own pace. In traditional schools, students are grouped within single grade levels. All students are taught exactly the same content, without any consideration of what students have actually learned or understood. The opposite is true at Oak Meadow. Students move within a three-year program that allows students to work at their own pace. And at Oak Meadow students are not even bound rigidly within a three-grade classroom. Teachers are able to connect students to materials from the previous program or from the next program, fulfilling the learning needs of each individual student. That means students always have an opportunity to slow down and make sure they understand concepts fully, as well as move forward to new material when they have demonstrated the mastery necessary for moving forward. When students move to the next program level, the teachers collaborate closely in order to support students where they're at.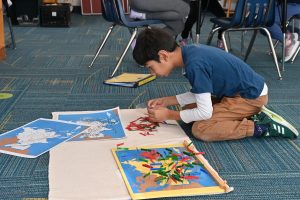 Mastery of academic content and life skills is a revolutionary new approach to education. Mastery, an approach that is deeply embedded in Montessori education, is now being explored by a relatively small percentage of innovative schools across the US. Mastery is essentially a model where students have clearly defined learning goals that are informed by the unique abilities, potential, and interests of the students. As Natalie Ferreira explained to parents, "we provide students with fences and freedoms." In other words, students are still responsible for developing essential knowledge and skills, while also having some freedom to plan their time and activities each day and week. In this way, students take ownership of their learning plan, with the skillful guidance of their teacher. This is an approach that builds deeper understanding of core learning concepts, is more engaging for students, and leads to better outcomes in student self-confidence.
Parents often tell me they are interested to know more about what we mean by mastery learning — what this actually looks like for students at each of the program levels. I look forward to explaining mastery-based learning more fully in upcoming posts. If you are interested in exploring this on your own, Oak Meadow is part of The Mastery Transcript Consortium, a growing group of innovative schools nationwide. By visiting this site, you will gain a better understanding of how this concept is already being embraced by many of the finest and most forward-leaning schools in the US.