Learning best when minds, hearts, and hands are engaged
During the Lower Elementary Parent-Child Day on campus this week, parents had the opportunity to visit their child's classroom and share in the daily learning experience. Following the event, parents were surprised by how their elementary-age children could grasp such complex concepts in math, and do so with confidence. One parent mentioned, "my child was teaching me." Another parent added, "This is so diametrically opposite to traditional education."
Parents had similar experiences this week in attending the Curriculum Overview Events for Beginners, Children's House, and Middle School.
Here is the first of six key differentiators in an Oak Meadow education, defined in a framework we call our "North Star":
Learn experientially. Students of all ages learn best through hands-on experiences; when their minds, hearts, and hands are engaged; when they seek to gain new knowledge, attitudes, and skills; when they develop a deeper understanding of the abstract through the concrete, tangible, and experiential.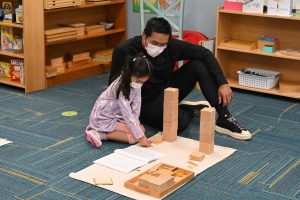 This approach to learning sets Oak Meadow apart from traditional schools. From our youngest students, through the Lower Elementary program, students gain a strong understanding of core academic knowledge through hands-on experiences with concrete materials. This applies to math, writing, grammar, geography, science, and all academic subjects. As students move into Upper Elementary and Middle School, their learning gradually shifts from the concrete to the abstract. Older students discover they have a better understanding of abstract ideas because these concepts have been deeply embedded in their thinking through hands-on experiential learning when they were younger.
At Oak Meadow, the curriculum and materials are always based on the developmental needs of the child, and they are flexibly designed to adjust to each child's unique developmental pathway.