It's About Your Child
There are many reasons Oak Meadow students have had such a successful year despite the pandemic. Having well-defined health protocols in place enabled us to make sure students and teachers had a safe learning environment. We are one of the few schools in the nation that has not had to close a single cohort all school year. Our students have been at school, learning in the classrooms, five days a week for the entire year (except for planned health buffer weeks following vacations).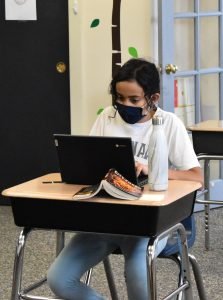 What we've done this year, however, goes well beyond just having a safe environment. Way beyond "surviving" the year, we celebrate that we have been able to thrive. In order to thrive academically, students need to feel safe socially and emotionally. Our teachers prioritize a positive, productive, happy, and personalized environment by focusing on individual student needs, adjusting the curriculum to meet the academic and emotional needs of each student. Teachers know that each child is unique in terms of strengths and areas for growth, and they understand that the pandemic has accentuated this more than ever before.
When the school can create an environment where everyone is physically safe, and teachers can provide a classroom where each individual student feels emotionally and socially safe and happy, then children are able to be engaged as learners, to connect with their passions and interests, and to realize more of their intellectual potential.
This is what we all want for our children. Safe and happy kids do better in school. When you look inside an Oak Meadow classroom, this is what you will observe. It's not surprising that our school is seeing such a surge of new interest from prospective parents. Oak Meadow's approach has been instrumental to successful student outcomes.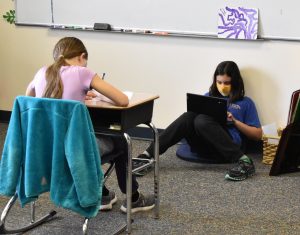 I recently visited a math class in Upper Elementary and Middle School. The teacher made sure each student was asked to solve a problem and share it with the class. She has built a culture where everyone understands that shared participation is part of the learning experience for everyone, including students who may be more hesitant to participate. Mistakes are a natural part of the process. This is our school culture. At Oak Meadow, collaboration is part of the experience. Even new students are immediately brought into the fold. Students  get along with each other and work collaboratively as part of their experience here.
During a Pre-Algebra class with the 6th graders , the teacher explained that there can be different approaches to solve a problem. The teacher worked with students individually to help them find ways that made sense to each, based on their learning style. I could see how this individualized approach made the students feel more engaged and confident in their work. The teacher also encouraged students to "verbalize" how they are solving the problem, which is another way for students to form a deeper understanding of the concepts. Sometimes children may think they are not good at math, but the problem is actually that they need a different approach. When students are given the opportunity to solve problems in ways that make the most sense to them, it is self-affirming and they thrive.
Oak Meadow is committed to helping children be confident learners and successful in their academic progress. Oak Meadow teachers do this by taking the time to carefully prepare the learning environment in a way that is well attuned to the social and emotional needs of each child.