Giving children agency
In visiting one of our Children's House classrooms this week, I observed all of the students engaged in self-directed learning with guidance from the teacher and assistant. Some were working on their own, others in small groups. As one child finished with something, the teacher asked, "would you like to do this again, or select another material?" "I'd like another material," the child replied. He carefully put all of the materials back neatly on a tray, put the tray away in its correct place on the shelf, and selected another tray with a variety of beautiful geometric shapes, and began on his own to use the material to explore a math concept.
It's a scene that happens in many of our classrooms: learning how to wash hands and use the paper towel dispenser in Beginners, an older student helping a younger student in Lower Elementary, sounding out words using one of the language materials.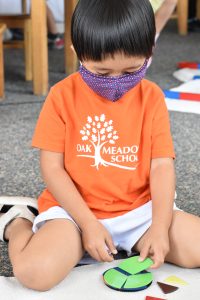 What's so effective about Montessori is the balancing of structure with agency. Teachers create the "prepared environment" that is designed with intentionality to best stimulate the learning of each individual child, or small group of children. Once the environment has been prepared by the teacher, the teacher steps back, avoids interrupting the child, and lets the child discover the best path forward based on their interest and level of mastery. In a Montessori school like ours, the teachers help to create the conditions and norms and values from which the child can best learn and grow. And that's such an incredibly important approach. It's the basis of a school that has as a goal the development of each child's own agency.
What's meant by the term "agency?" It actually encompasses almost everything that matters the most in a child's education, including:
Developing children as lifelong learners

Developing children as adaptive thinkers and creative problem solvers

Prioritizing well-being as the center of a child's ability to be successful

Making learning more personally relevant (being able to make choices)

Making learning more relevant to life and the world in which children are growing up, seeing a subject or topic in a larger context, and understanding that the world that is changing at a faster pace than ever before

Connecting learning to a sense of purpose, to the uniqueness of each child , a child's interests and passions, and to the unique person that each child can become

Having the freedom to go deeper into a subject of interest, to explore an idea in a completely different way

Empowering a child's intrinsic motivation rather than relying on external rewards or punishments, helping children to see the unlimited possibilities ahead if they are driven by their own interests and passions and what makes each child unique

Learning to develop personal habits and skills that turn out to be essential for each individual to be as successful as possible
Isn't this what children really need and deserve as learners today? Isn't this what parents value most and really want for their child in order to best ensure the child's success in later stages of school and life?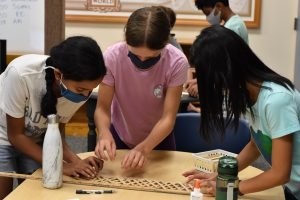 Some people have a misconception that Montessori is mostly intended for young children, and doesn't have application for older students. Although students do move beyond the use of the concrete materials as they advance in the upper elementary program, the teachers continue to prioritize the same principles of creating an environment that develops student agency.
I listened to a podcast this week by Michael Horn, one of the foremost experts on higher education in the United States, and he highlighted the importance of agency as the most important factor in a K-12 education. He said, "I've been so taken by Montessori education… the magic of it is that the prepared environment allows them to have agency within that construct."
A Montessori education is a relevant and effective approach to nurturing a confident, independent and successful individual.