Students learning important life lessons from nature and gardening
Fall days in New England are particularly invigorating, and Oak Meadow students enjoy being out in the campus gardens as part of their nature classes. Over the last two weeks, I had the opportunity to join the middle school nature classes in the gardens at 8:30am.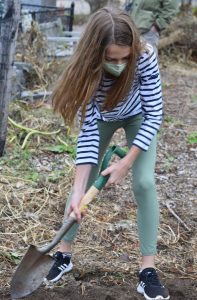 Although being outside is definitely part of the attraction for students, they also acknowledge the many other benefits: working with your hands, seeing the results of hard work when the gardens are more beautiful and productive, and taking part in useful and collaborative work with peers. The students who are learning at-home have joined in virtually via Webex for a few minutes over the last two weeks, talking with their classmates and seeing the work underway, and working on research at home that is directly relevant to what the students are doing at school (see the student comments below).
Our school's naturalist, Stephen DeFlorio (Mr. D), is able to help students gain important life lessons from nature and gardening. He has built the school's nature program around the principles of "permaculture," which provide our students with guidance and insights about life itself–about how to work in harmony (rather than in conflict) with the principles of nature and the larger ecosystem that embraces all living things.
The principles of permaculture don't merely apply to the beauty and order of nature. They apply to every aspect of our lives. These principles serve to guide our students in human activities such as economics, energy, city planning, business and government operations, and the development of personal life skills like resilience and adaptability.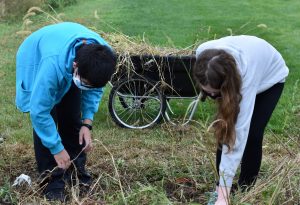 As I worked alongside Mr. DeFlorio's students last week, in the gardens and over Webex, I was struck by how naturally the students have been able to absorb larger life lessons from nature and gardening. Here is what the students shared with Mr. D and me about the practical application of the principles of permaculture:
"What [stands] out to me about permaculture … is looking at a problem and seeing it as a solution. This [stands] out to me because that mindset is important for life."

Principle 9: Use Small and Slow solutions: "We use this principle a lot in school, because Mr.D has small processes to create things, such as working with beans and rice; or working with vegetables, and fruits. Having small gardens and small processes can lead to bigger ones. Small processes are easier to maintain and work with. Many big processes fail. The proverb 'the bigger they are, the harder they fall' reminds us of the disadvantages of excessive size and growth, while 'slow and steady wins the race' encourages patience while reflecting on a common truth in nature and society."

Principle 12 – Creatively Use and Respond to Change. "Flexibility means creating a plan for every possibility. Since this isn't possible, something that we can do at Oak Meadow is brainstorm the most common dilemmas. We are living during an uncertain time and could go remote at any notice. We must generate plans [for]… when this happens: generate what-if plans; think of possible troublesome scenarios; make realistic plans for what happens; learn to go with the flow."

"Oak Meadow uses diversity in many ways. In the school's garden, Mr. D believes that using many different plants from different cultures is the best way to have all of them thrive… We also see many examples of diversity in the wildlife in the Cobb conservation land. People can use diversity in the crops they grow. For example, last year at Mill City Grows, instead of using their physical effort to break through the soil, they used tillard radishes. Using different plants to support one another is a way that people should use diversity today."

"Permaculture is… a way of thinking, to keep our ecosystems and nature diverse, and to work with our planet, and a new way to see the world and problems. Permaculture is a design process."

"I [keep] thinking about all the ways we are destroying and abusing what the Earth has provided for us to survive and grow. We were given all these resources such as water, oxygen, animals, and plants. Each year we either increase the population of the animals too much or kill off an entire species without even realizing what we have done. Every season, farmers harvest crops and are polluting the air with their machines and tearing the topsoil out of the ground and basically ruining the nutrients for the next crop they will be planting."

Principle 9: Using Small and Slow Solutions. "Turning cars from gas… to electric… is just one of the many impacts to make our Earth clean again. Oak Meadow has done multiple things to help this cause. We compost our left over organic food, we recycle, we also are responsible for not over using supplies and wasting. Oak Meadow also has a vegetable garden so we don't have to buy vegetables when we cook. We [should consider]… small and slow solutions in our school by getting electric busses and using solar panels. It's the small things that count and we can start and be a part of saving the next generations to come!"

"We can include permaculture design in OMS by using the natural landscape to our advantage. By looking at both the small and large picture of nature, we could find a way to [utilize] that area. A spider web can be changed to fit its environment, yet the design always stays the same. We could use the same principle to create an energy efficient garden, as that area gets a lot of sunlight. Because the soil is very dry, we would have to use plants that emit useful elements to the soil. Even if we cannot use that area for plants, we could hook up solar panels so our energy usage would be a bit less. Also, if we placed beehives there, the bees could help the three sisters garden, while providing an educational experience for the younger children."

"We are taught to lower our carbon footprint. If we change small daily activities, we could help our environment." 

Principle 5 – Use and Value Renewable Resources and Services. "I see this principle being applied at Oak Meadow because we value renewable resources alot. We have made sure to put recycling bins in the hallways and in each classroom next to the trash so we can reuse our paper. Outside we have helped create a small garden with the basic vegetables so we can grow food on our own. I will incorporate this principle into my everyday life by making sure to recycle and not use an unnecessary amount of necessities. My family and I have a big vegetable garden where we grow all types of vegetables such as tomatoes and cucumbers. I might incorporate this principal into my perspective by thinking about each of my actions and how I can help my environment by reusing." 
If you'd like to know more about permaculture, click on these links: